Monthly Archives:
April 2019
---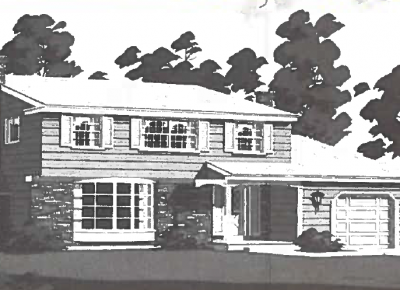 The Birches is located in Washington township Gloucester county. This development was built by Joseph Esposito builders, circa 1970's. These homes were built in the "gas shortage" era. Most of these homes were built with oil heat but since have changed over to 'gas" heat.
This area is desirable because of the reasonable pricing, low taxes and no association fees. There has been a lot of homes that have been recently renovated making this area in high demand.
The price range margin in The Birches is approximately $80,000 -155,000 for the Twin homes. There are 3 different models to choose from. All homes have a nice size lot. There are homes that back to a wooded area with a stream. There are a handful of Twin homes that have basements.
There are Single family homes in The Birches as well. These homes range from $175,000- $225,000. There are several different models that are offered.
This neighborhood has its own elementary school which is Thomas Jefferson Elementary School that house grades 1 through 6th.
This development is in the center of Washington Township. It is also close to the Cooper Health systems (formally Kennedy Hospital). This area is sought after for doctors, nurses and other health care professionals because of its close proximity to the medical offices and hospital.
Download Original Builder's Floorplans (PDF)
Photos from Builder's Brochure for The Birches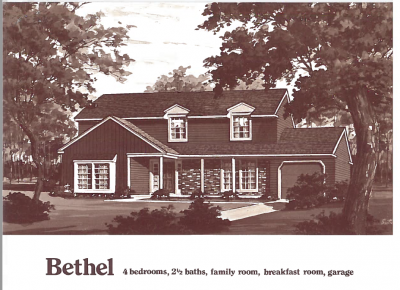 Heritage Valley is Located in the center of Washington Township, Gloucester County. This development was built by Paparone Construction, a division of U.S. Home circa 1977-1984. It's a picturesquely situated in a farmland setting a very desirable neighborhood.
Some of the models offered here are the "Tyler" which is a 3-bedroom, 1 bath and an optional garage. The "Salina" is a 3 bedroom 1 ½ bath 2-story with a garage. Then there is the "Bethel" that offers 4 bedrooms, 2 ½ baths, breakfast room and garage. There are many different model's and floor plans throughout his neighborhood. The square footage ranges from 1600 to about 4,000. The price ranges from $190,000 – $350,000. About 1/3 of the homes have basements. Hurfville elementary school is located a short distance away.
Heritage Valley is one of the largest neighborhoods in Washington Township. It is located in the center of town. Where you have easy access to popular eateries, ballfields, hockey rinks and across the street from Washington Lake Park, Police station and a short distance up the road from Duffield's which has been a landmark of Washington Township for decades. They have farm fresh goods, bakery, hayrides, children events year-round and strawberry picking! The neighborhood offers easy access to all major roads and routes 42, 322 and 55.
Download Original Builder's Floorplans (PDF)
Photos From Builder's Brochure for Heritage Valley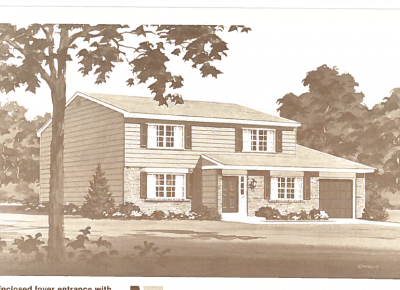 Crossroads in Washington Township, Gloucester County is development that was built by Joseph Cutler and Sons, Louis Blumberg and Wynne Hill developers, circa 1977.
Download Original Builder's Floorplans (PDF)
The homes in Crossroads this area range from 3 different models.
The "Rosemont" Split Level 3 bedrooms and 2 ½ baths.
The "Somerset "2 -Story with an optional basement, 3-4 bedrooms with 2 ½ baths.
The "Hampton" Rancher with 2-3 Bedrooms and 2 baths.
The "Princeton" 2 Story home with 3,4 or 5 bedrooms and 2 ½ baths.
The price range in this in this neighborhood ranges from $175,000 to $270,000
The name "Crossroads" was chosen because there was an old-time, crossroads atmosphere in Washington Township. The total area of crossroads is approximately 188 acres of land of which more then 56 acres consist of 2 lakes, The West Lake and The East Lake. These homes are built on ¼ acre lots.
The location of this development is in the center of Washington Township's "Premiere Community "between Hurffville-Crosskeys Road and Fish Pond Road. This area was at one time all Peach Orchards and still some surrounding the neighborhood now. The location is desirable because it has easy access it routes 42, 322 and the Atlantic City Expressway and all shore points.
Photos from Builder's Original Brochure for Crossroads