Crossroads in Washington Township NJ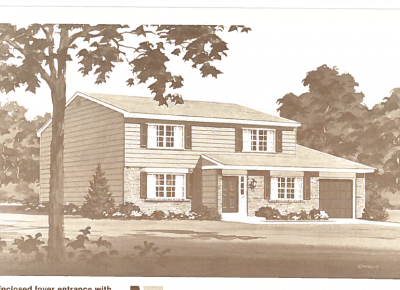 Crossroads in Washington Township NJ, in Gloucester County, is a development that was built by Joseph Cutler and Sons, Louis Blumberg and Wynne Hill developers, circa 1977.
Download Original Builder's Floorplans (PDF)
The homes in Crossroads this area range from 3 different models.
The "Rosemont": Split Level homes with 3 bedrooms and 2 ½ baths.
The "Somerset": Two Story home with an optional basement, 3-4 bedrooms and 2 ½ baths.
The "Hampton": Rancher homes with 2-3 Bedrooms and 2 baths.
The "Princeton": Two Story homes with 3,4 or 5 bedrooms and 2 ½ baths.
Home prices in Crossroads in Washington Township NJ range from $175,000 to $270,000
The name "Crossroads" was chosen because there was an old-time, crossroads atmosphere in Washington Township. The total area of Crossroads is approximately 188 acres of land, of which more then 56 acres consist of two lakes, The West Lake and The East Lake. These homes are built on ¼ acre lots.
The location of this development is in the center of Washington Township's "Premiere Community", between Hurffville-Crosskeys Road and Fish Pond Road. This area was at one time all peach orchards, and you can still find some surrounding the neighborhood now. This location is desirable because it has easy access to NJ Route 42, U.S. Route 322, the Atlantic City Expressway and all of the best Jersey Shore points.
Photos from Builder's Original Brochure for Crossroads in Washington Township NJ
Want to find out more about Crossroads in Washington Township and whether it's the right location for you and your family? The Augello Team is based right here in Washington Township, and we have a combined 30-plus years of experience serving both buyers and sellers right here in the community. We'll show you the best choices in the Crossroads region, and we'll help you find the right home for your needs and budget.
Contact The Augello Team today for an appointment and get started on finding your new Washington Township home!